Last week I showed you Rimmels new '
Metal Rush
' collection and today I have two of their new 'Precious Stones' glitter polishes.
Precious Stones consists of two high coverage glitter nail polishes named Ruby Crush and Diamond Dust.
001 Diamond Dust.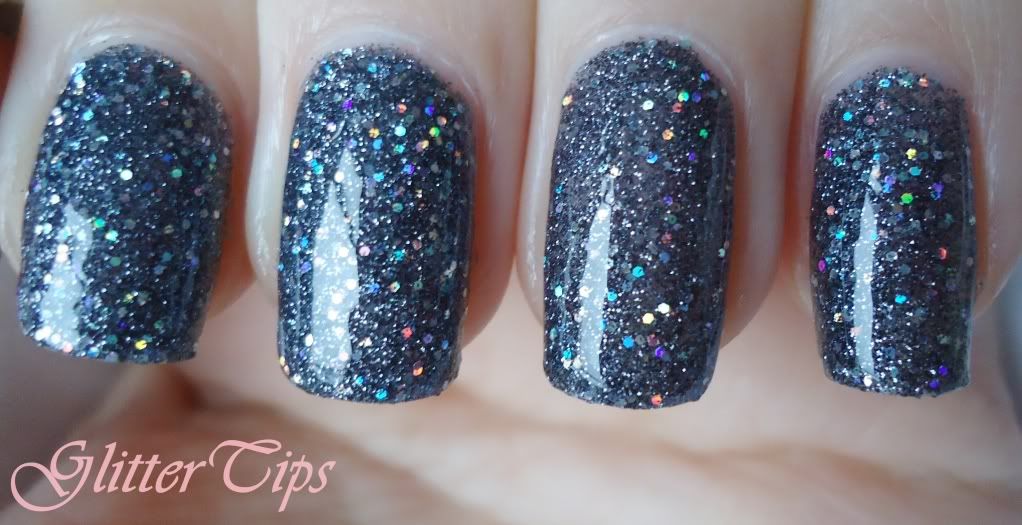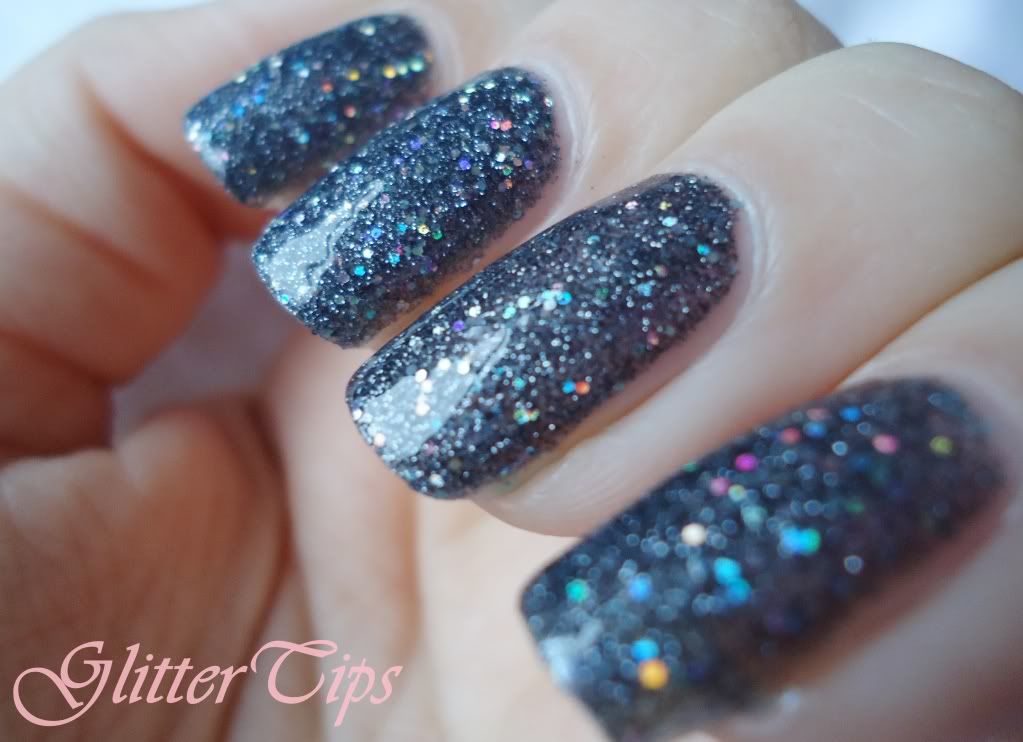 High coverage is no joke! This is two coats with no 'underwear' other than a base coat!
Diamond Dust is a gunmetal grey with plenty of holo glitter for sparkle. It applied evenly without a hitch and dried to a slightly matte affect, which looked amazing for those who like their glitters slightly more muted but I like my glitters to really twinkle, so the photos show it with a coat of Seche Vite.
I wore this for a night out and I'm sad to say it did not last the night, I looked down at one point to find one nail on each hand had come off in one big chunk and several other nails were chipped. It's not like my nights out are of the wild variety either, a few drinks, a bit of chatter, then maybe some dancing towards the end of the night, so I saw no reason for whole nails to chip off.
For me however, this is not too much of a disaster as I very rarely wear a polish longer than a day anyway. But if you like yours to last at least the week or possibly more, you may want to consider wearing a polish underneath as 'underwear' and be prepared to touch up the tips.
At least that's one of the perks of a glitter polish, easy touch ups!
I still love this polish and will get a lot of wear out of it simply because I adore the coverage, colour and the sparkle! It's an eye catcher for sure!
002 Ruby Crush.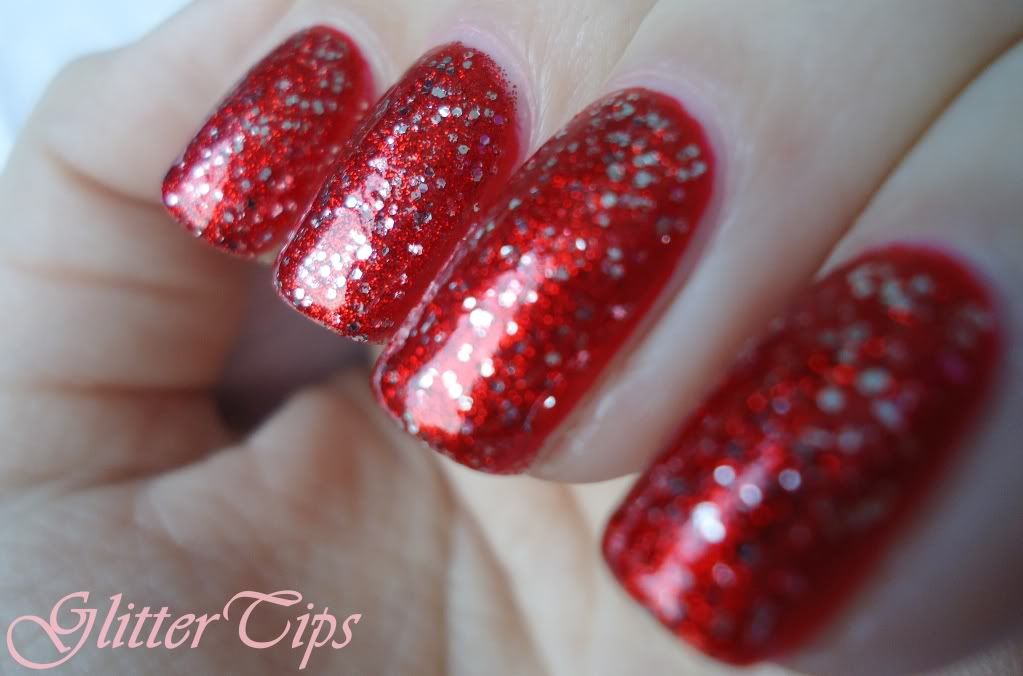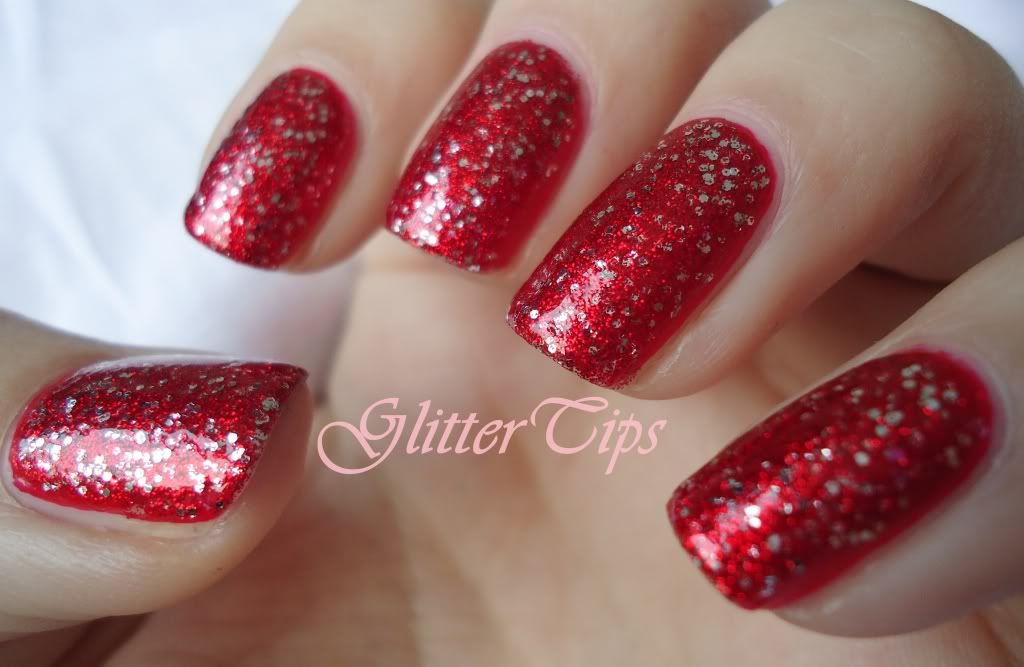 Ruby Crush is a mix of fine red glitter and larger silver glitter particles.
Maybe it's just the time of year, but this polish feels really, very festive to me!
I applied two coats over a coat of Barry M Bright Red and then added a coat of Seche Vite in an attempt to avoid the chipping I had with Diamond Dust. Obviously, with it being a different polish, having not tried Diamond Dust with 'underwear' or Ruby Crush without, and the fact that I didn't wear Ruby Crush on a night out, I can't say for certain that this has solved the massive chipping I had with Diamond Dust but it has lasted longer. So far it has lasted a whole day, which has consisted of housework, playing with puppy, decorating a Christmas tree, showering, cooking and the kids swimming lessons. I've touched up some tip wear but that's it.
Again it applied evenly, if not maybe slightly sparser than Diamond Dust (but maybe that's just me) and dried to a Matte finish, though with a coat of topcoat it is a mass of sparkly festive goodness!
Has anyone else tried these out? If so did you have the same issues as I did with the chipping?